Step 1
Look Up Your Course Provider
To upgrade your Class 13 MAST Permit to a Class 12 MAST Permit, you must contact the course provider that issued your original permit. Use the look-up tool below to see which provider issued your original permit.
Step 2
Verify Your Information
Please fill out the form below to verify which course provider issued your original Class 13 MAST Permit. If it was Craft Serving, we will need to collect additional information to issue your MAST Permit upgrade.
Pay For Your Permit

We do our best to make getting a MAST Permit an affordable process. That said, there are real costs when it comes to issuing MAST Permits. To help offset these costs, we charge $10.00 for all MAST Permit upgrades.
Step 4
Check Your Mailbox
After receiving and verifying all of your information, we will process your upgrade request. Please allow up to 14 days to receive your permit in the mail.
Why Should I Upgrade My MAST Permit?
MAST Permits are initially issued based on age. Individuals 18-20 receive a Class 13 MAST Permit, while individuals 21 or older receive a Class 12 MAST Permit.
A Class 13 permit allows you to work in the food and beverage industry, but not primarily as an alcohol server or bartender.
Once you turn 21, your Class 13 permit can be upgraded to a Class 12, enabling you to legally perform more duties.
Class 13 Permits vs. Class 12 Permits
The major difference between Class 13 permit holders and Class 12 permit holders is age and the functions they are allowed to perform.
Washington
Class 13 Server Permit

Class 13 permit (18 to 20 years of age). This permit allows you to:
Take alcohol orders
Deliver alcoholic beverages
Pour alcohol into a customer's glass at the customer's table
Sell alcohol
You are eligible to upgrade to a Class 12 permit once you turn 21
Minor permittees may temporarily enter areas prohibited to minors to clean up, seat patrons, deliver a message, order and pick up drinks for service in non-prohibited areas, to set and clear tables and to serve food. They may not take food/alcohol orders or serve alcohol in areas prohibited to minors.
5
Quick Facts
ON MAST PERMIT UPGRADES
The provider that issued your original permit must issue your upgrade.
Craft Serving processes upgraded permits within 14 days.
Your upgraded permit will have the same expiration date as your original permit.
Your upgraded permit will have the same permit number as your original permit.
After you receive your permit, you must sign and carry it anytime you serve alcohol.
If your existing MAST Permit is nearing expiration, we recommend you renew it rather than upgrade it. Renewing your MAST Permit involves retaking a MAST Class and the final exam, but your new permit will be valid for another five, full years! Plus, the cost to renew is only slightly more than the cost to upgrade.
Replace Your MAST Permit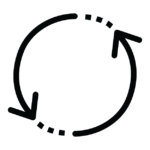 In the wrong place? Click here to learn how to replace your MAST Permit if it is lost, stolen or damaged in the wash.
Frequently Asked Questions
For other answers to questions about MAST Permits, please check out our Frequently Asked Questions page.

CHAT
Have a question?
We have answers.
9am – 5pm
Monday – Friday
LET'S HAVE A TALK
WA: 206.333.4007

EMAIL