Press Release: New MAST Permit Course Provider in Washington!
NEW MAST PERMIT COURSE PROVIDER IN WASHINGTON!

FINALLY, Washington State has a new provider of Mandatory Alcohol Server Training (MAST)! On October 20th, Craft Serving went live with its Washington MAST Permit Course!
Craft Serving's online course is approved by the Washington State Liquor and Cannabis Board (WSLCB) for individuals that need to obtain a MAST Permit to serve alcohol at liquor licensed businesses. Students that take the class will be issued either a Class 12 Mixologist Permit or a Class 13 Server Permit depending on their age.
Before we were MAST providers, we were bartenders. As bartenders, we took pride in what we did and placed emphasis on craft and skill. We loved every aspect of bartending except having to renew our MAST Permit.
The online courses we took seemed poorly organized, outdated and out-of-touch with the issues alcohol servers actually face. And, although we had a good relationship with our local WSLCB inspector, we also felt like the information we received from the WSLCB was not always clear or practical.
Consequently, we set out to help bridge the gap by creating a new, modern course that makes Mandatory Alcohol Server Training as painless as possible.
A BETTER MAST PERMIT COURSE
Unfortunately for us, there are many other MAST Permit Courses available. But fortunately for you, only one of them is special!
What makes our course special? You might have to take our course to learn all the reasons, but here are our top three:
To start, our course builds upon itself. This may seem like a basic concept, but for some reason, it is something many of our competitors have yet to figure out.
Our course incorporates a variety of visual and interactive tools to create an entertaining and engaging learning environment.
Our course teaches the basics of Mandatory Alcohol Server Training in a clear, concise format so you can easily recall information from the course long after you have completed it.
By the end of your training, we know you will feel confident in your ability to serve alcohol responsibly and be committed to upholding liquor laws, even under challenging circumstances!
Ironically enough, the first person to purchase our course hails from our hometown of Wenatchee, Washington. Shane Handley from Union Hill Cider Company was not only quick to purchase the course, she was also quick to leave us our first five star review stating,
Shane Handley
★★★★★
"Great detail and easy to understand"
Our second review, however, really made us smile. It's personal touch reminded us why we worked so hard to develop this course and make it user friendly. Tasha Wood from Iron Goat Brewing said,
Tasha Wood
★★★★★
"This course is very well written with great attention to detail and full of relevant information. It was also super easy to navigate. I have a busy 4 year old, so every time I had to step away and come back, the program brought me right back to where I left off. I highly recommend Craft Serving to anyone needing to get their MAST permit!"
It's still early days, but so far the other reviews have also been positive. Their personal touch reminds us of why we worked so hard to develop this course and make it "user friendly." But don't just take our word for it! Scroll through to see what our customers are saying:
As our reviews suggest, this isn't our first rodeo! In 2019, we began our journey in alcohol server education by launching our Oregon OLCC Permit Course. Now, almost a year later, we have applied what we learned in Oregon to our new Washington MAST Permit Course.
Although we may eventually expand to other states, getting up and running in both Oregon and Washington is a particularly gratifying achievement for us. As outdoor enthusiasts and lovers of our region's craft food and drink movement, we are thrilled to be able to say that we are now serving the Pacific Northwest!

For more information on how to get a Washington MAST Permit, please visit our Frequently Asked Questions page. For inquires on how to partner with Craft Serving to provide your employees or staff with a discount to our MAST Permit Course, please reach out to our customer service by phone at 206.333.4007 or by email at [email protected]. 
LEARN MORE ABOUT
OUR MAST PERMIT COURSE
Craft Serving is WSLCB Certified
WASHINGTON
MAST PERMIT COURSE
This online course is approved by the Washington State Liquor & Cannabis Board (WSLCB).
Thanks for checking out this article!  If you found it helpful, feel free to share it or leave us a comment.
Below are links to some of our other Alcohol Server Education related news posts. Check them out and be sure to let us know if there is a topic you are interested in learning more about. We will try and cover it in our next news update!
 Share this article on Facebook
 Share this article via email
Sarah Travis
Co-Founder and Bon Vivant
Craft Serving, LLC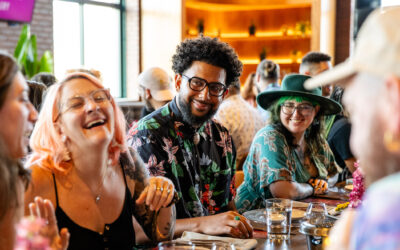 Photo Courtesy of Caitlyn Ridenour for Camp Runamok WHY SHOULD BARTENDERS CONSIDER ATTENDING EVENTS? If you love bartending as much as we do, then you are probably looking for ways to continue growing in your field. Events for bartenders are a great way to stay on top...